August 16, 2023
Spotlight on our New Board Member- Rene Buch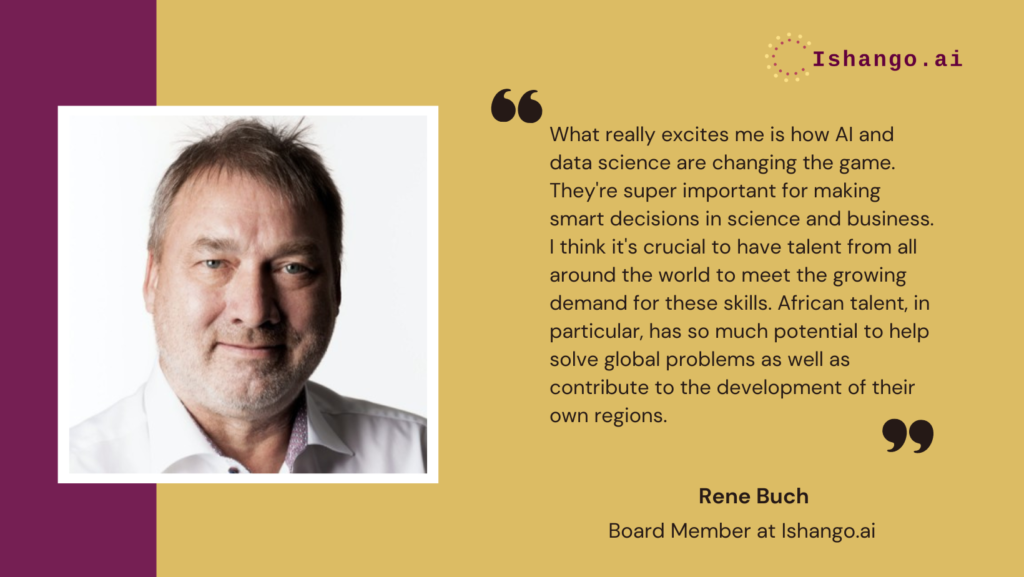 We are happy to introduce Rene Buch, who recently joined Ishango as an advisory board member. Rene is a seasoned senior leader who has worked across the globe leading technology companies and start-ups to achieve transformational growth. Read on below to learn more about his plans for the future and his passion to make a difference.
Could you please introduce yourself and your professional background or career to date?
I've spent 30 years working in management roles all over the world, from Europe and the US to partnerships in Africa and the Asia-Pacific. I've also been involved in global research and education for over 20 years. I've had the privilege of holding various C-suite positions, which means I know a lot about global leadership, strategy, and company governance. I'm not just about theories; I've actually delivered solutions that work both locally and globally. This has given me a good understanding of different cultures and how to work with funding agencies and governments.
What excites you the most about the potential of AI and data science and how African talent can contribute to the field?
What really excites me is how AI and data science are changing the game. They're super important for making smart decisions in science and business. I think it's crucial to have talent from all around the world to meet the growing demand for these skills. African talent, in particular, has so much potential to help solve global problems as well as contribute to the development of their own regions.
What motivated you to join Ishango.ai's board? How do you hope to contribute as a board member?
I joined Ishango.ai's board because I want to make a real difference. I'll be using my experience and connections to help Ishango grow and reach more customers. I'll be focusing on coming up with strategic plans, making sure everyone knows what's going on, and keeping things organised.
What are your aspirations for Ishango.ai in the next five years?
Looking ahead, my goal for Ishango.ai in the next five years is simple: I want to help them come up with a solid plan and team up with partners from all over the world to tackle important problems. When our partners succeed, Ishango succeeds too.